Looking for a at-home children haircut ?
At-home children haircuts : boys, girls, teenagers. Find and book a mobile hairstylists specializing in children near you and avoid the hassle of dragging your toddlers or your kids ( … or teenagers) to the salon. Now the salon or the barbershop comes to you.
Best At-Home Hairstylists for Children
Children's haircutting can be a challenge
Getting your younger ones to go get a haircut might prove to be a difficult, even impossible task, especially if they've woken up that day choosing to question everything they have to do. They might end up liking it, as is the case more often than not. However, the real issue is in getting them to accept that they need to leave the house (and their games or their phones) to simply go and get their hair cut.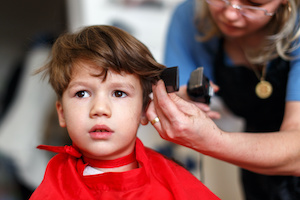 A solution for this might be an at home children's haircut. If you think about it, the obstacle of getting them out of the house is overcome quite easily. A problem might arise in trying to get them off the screen, but even that might prove unnecessary, since they can keep playing or chatting while getting their hair cut. But maybe we shouldn't spoil them to that extreme. These services already exist and have proven to be quite popular, especially during a time where gatherings are discouraged, or hair salons and similar services simply need to shut down. It's never a bad idea to put safety (and convenience) first. A mobile hair salon is just one of many examples of how this industry is always shifting towards a better customer experience, even if we don't quite notice it most of the time.
Children's haircuts and hairstyles don't tend to go out of fashion as fast as adult hairstyles do. However, the trends are changing faster and faster, especially considering the rising popularity of certain social media apps that act as a sort of subconscious peer pressure to follow the trends presented by kids' favorite internet stars. Long gone are the days when a bowl and a pair of scissors over a kitchen sink were the norm. A slicked-back look, despite seeming to be coming back again, no longer does the trick for most kids nowadays. That has pushed a few barbers and hair salons to cater more to children, with some even specializing in children's haircuts.
Opt for at-home haircut for your children
As some say, there's a business for everything these days, and kids' haircuts are no exception. A luxury that was once reserved to child stars and actors is now accessible to most of our younger generation. These are kids who just wish to be in on the latest hairstyle trends. A hair salon or a barber catering exclusively to kids might be hard to find, but it's probably not an impossible task. In fact, it might become more common practice as kids start to mature and develop their personality and sense of style at a progressively younger age.
Either through changes in hair salon practices or in hairstyle trends, the truth is that this is an ever evolving sector and our children still need to get their hair cut, which is unlikely to change for the time being. So, we might as well enjoy the new opportunities that this industry has to offer and make it a simpler and more engaging process, both for us and our kids.