Looking for a mobile barber near you ?
Find a mobile barber near you. Enter your address above and check out all the mobile barbers around you. Have your regular men's haircut or beard trim in the comfort of your home. Why go to a barbershop when the barbershop will come to you?
The Best Mobile Barbers Near You
Find a mobile barber that will come to you : you deserve it !
A mobile barber is someone who works outside the confines of a barbershop and travels to the customer rather than having the customer travel to the barbershop.
Now the barber becomes mobile : at-home haircuts and hairstyle are not reserved to celebrities any more. Have your regular men's haircut, buzz cut, mustache trim or even a beard touch up (to conceal the grey) in the comfort of your home. Let the mobile barbershop come to you !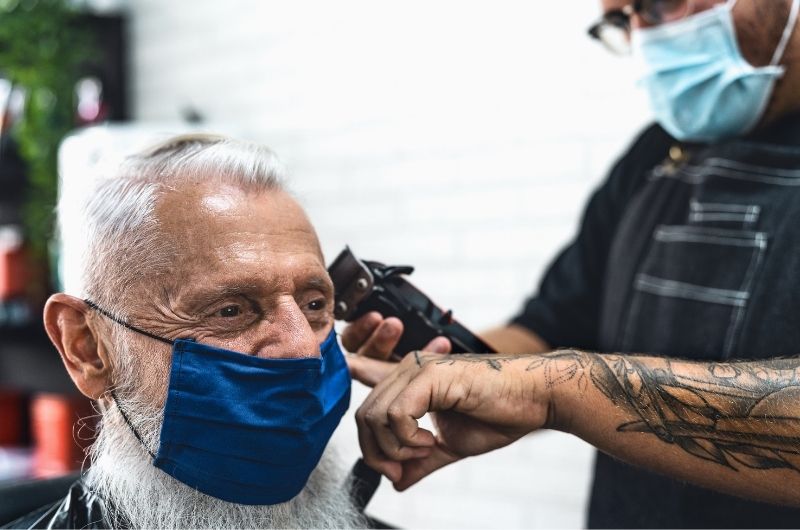 What is a Barber and a Master Barber (vs a Hair Stylist) ?
Barbers cut and style the hair of their predominantly male client base. They are required to be licensed since the profession deals directly with public health. Master barber training includes all the traditional elements of barber training, including hair cutting, hair coloring, facial hair services, the use of styling tools, hygiene protocols and client relations, but also requires further specialized training in these areas.
The requirements for getting a barber license vary depending on the state, but generally include:
Completing a certain number of training hours: Most states require that you complete a certain number of training hours in order to be eligible for a license. The number of hours required can vary from state to state, but typically ranges from 1000 to 2000 hours.
Apprenticeship: Some states require a certain number of hours of apprenticeship under the supervision of a licensed barber. This can be a good way to gain hands-on experience and learn from a more experienced professional.
Passing a state board exam: Most states require that you pass a state board exam in order to be licensed. The exam typically covers topics such as hair cutting, styling, shaving, and sanitation.
Continuing education: Most states require that barbers complete a certain number of continuing education hours in order to renew their license.
Meeting other requirements: Depending on the state, there may be other requirements such as a background check, fingerprinting and submitting proof of age, etc.
It's important to check with your state's barbering board for specific requirements, as they can vary from state to state. It's also worth noting that some states have different level of licenses for different type of services, like hair cutting, shaving, etc… And see if the program you are considering is accredited by the National Accrediting Commission of Career Arts and Sciences (NACCAS) or other relevant organizations.
The term "master barber" does not typically refer to a specific diploma or degree, but rather to a level of skill and experience that a barber has achieved. In some states, becoming a "master barber" might require passing a state board exam and meeting other requirements, but in many states, it is a title given to the most experienced and skilled barber working in the shop or for the individual. It's important to note that some states may have different titles for different levels of barbers, like journeyman barber and master barber, so it's best to check with your state's barbering board for specifics.
The master barber license is a valuable asset, as it generally recognizes more experienced barbers as having the ability to provide a higher level of service which, in turn, gives them the ability to command higher prices for their services.
And what are the differences with a hair stylist ?
The main difference between a barber and a hair stylist is the type of services they provide and the training they receive.
Barbers are trained to cut and style men's hair, as well as to shave and trim beards. They typically receive training in cutting and styling short, traditional men's hairstyles, as well as in using clippers, scissors, and razors. Barbers may also provide basic hair coloring and grooming services, such as beard and mustache trimming.
Hair stylists, on the other hand, are trained to cut, style, and color hair for both men and women. They typically receive training in a wider range of cutting and styling techniques, including both long and short hairstyles, and in using a variety of tools and products. Hair stylists may also provide more advanced hair coloring and chemical treatments, such as highlights, lowlights, and perms.
In addition, hair stylists usually have a broader range of services they are authorized to perform, such as nails and makeup services, skin care, and so on.
It's worth noting that in some states, the terms "barber" and "hair stylist" may be used interchangeably, and the services provided by each may overlap. So if you are wondering, just check with your state's barbering or cosmetology board for details.
What is a mobile barber ?
A mobile barber is a barber who comes to a client's location to provide hair cutting and grooming services, instead of the client going to a traditional barbershop or salon. This can include things like cutting hair in a client's home, or providing services in a mobile barbershop. Mobile barbers can provide a convenient option for those who have difficulty leaving their home, have mobility issues, or prefer the convenience of having the service come to them.
There are two types of mobile barbers :
the most common, and usually least expensive, is the stylist who carries their equipment with them and provides services such as haircuts, hair coloring and hair styling inside the customer's home or place of business. (Other salon services such as massage, waxing and mani/pedis may be available as well.)
the other type of mobile stylist is one who uses a vehicle such as a trailer or a camper as their salon, and customers come inside to receive their services.
For a more comprehensive definition of what is and what does a mobile barber see this page : https://www.dash-stylists.com/mobile-barber-is-a-new-job.
Find a mobile barber near you
You should find a mobile hairstylist near you anytime, because mobile hairstyling is a convenient option for many.
Some people have an extremely busy schedule and have difficulty finding the time to go to a salon or barbershop. It's simply easier for the stylist to come to them. Additionally, many people with health problems, disabilities and those recovering from illnesses or accidents may find it easier to have their stylist or barber come to them. Apart from that, nothing beats receiving services in a space that's comfortable and familiar. And what's more comfortable and familiar than one's own home ?
Another benefit of mobile hairstylists or barbers is their cost, which is typically less than the cost for traditional stylists, as they don't have to pay overhead for a large salon or for other staff members.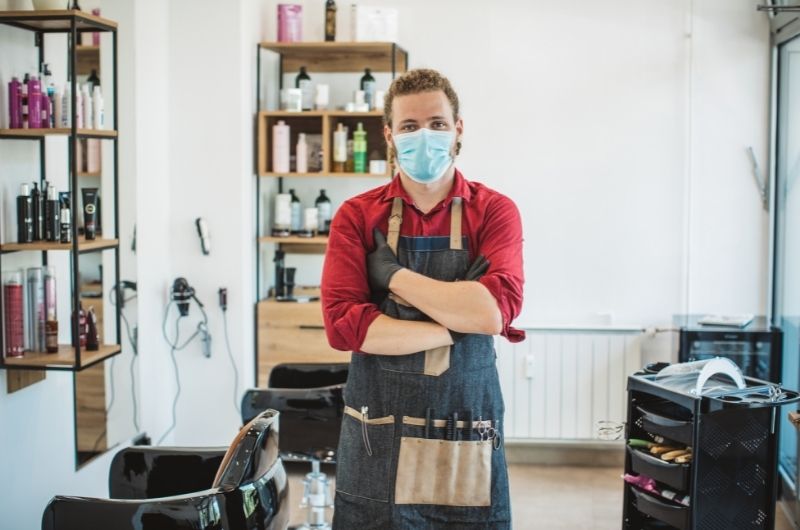 Select the right mobile barber for you or your loved ones
With very little humility, we might say "Thanks to DashStylists" ;-), but let's elaborate.
Once you've decided that a mobile hairstylist is the best option for you, your next step is finding one. Though they can be found anywhere, most are found in or near larger cities. If you live in a rural area, finding one can be a bit trickier.
Here are a few tips for finding the right barber for you:
Ask for recommendations: Ask friends, family, or coworkers if they know of a good barber. Personal recommendations can be very helpful in finding someone who will do a good job.
Research online: Look for barbershops in your area and read reviews of their services. Websites like Yelp and Google Reviews can provide valuable information about the quality of service, the atmosphere, and the prices.
Look for experience: A barber with more experience may be more likely to provide a high-quality service. You can ask how long the barber has been working or look for a barber who is a master barber, who have passed the state board exam.
Check out the shop: Before you make an appointment, it's a good idea to check out the barbershop. Look for a clean and well-maintained shop, with professional-looking barbers and a friendly atmosphere.
Communicate with the barber: During your first visit, explain exactly what you want, bring pictures if you have, so the barber can understand your preference. If you are not satisfied with the cut, let the barber know, so they can make adjustments for your next visit.
Remember that finding the right barber may take some time and may require trying out a few different options. But by following these tips, you should be able to find a barber who can provide you with the high-quality service you are looking for.
And mobile barber services are particularly a good fit for older adults aging at home.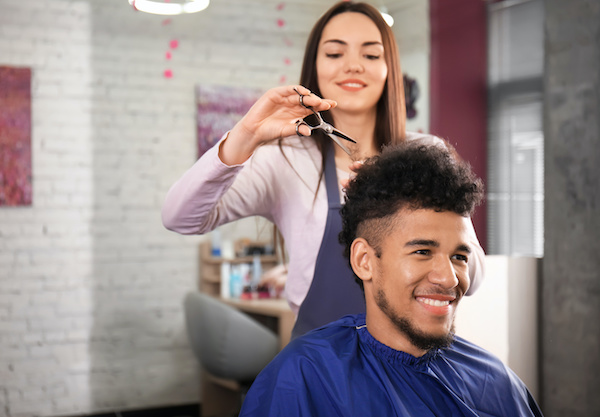 Find more information and resources about mobile barbering.
Other frequent asked questions about mobile barbers :
1. How much costs a haircut in a barbershop ?
A great haircut goes a long way in boosting your confidence. Whether it's in a high-end barbershop or an ordinary joint, many people want to have a good cut. Even if you aim at have a long healthy hair, it will require more than just waiting for it to grow. Regular trimming helps eliminate splitting ends and breakage thus allowing the your hair to grow healthily. The cost range is diverse with most barbershops ranging from $20-50. However, some salon in Midtown Manhattan, New York in known to charge between $80 to $200 for a regular man's shave.

Obviously, this leaves you with a question on what makes the price variation? Whereas looking good is the ultimate goal, the process of attaining that is the real deal. Even if you'll definitely need barbering, a professional hairstylist ought to offer the best solution based on your head shape, complexion, type of hair among other factors. The stylist will determine if your hair needs a fade or the clippers should cut more.

The price range thus comes about due to the locality, additional services not to mention the clientele. You do not expect a celebrity to have a haircut at an ordinary local salon. Class and status come with a cost.

Similarly, if the stylist is mobile and bring the services to you, there will be an added cost to the convenience as well as the facilitation fee. While there are luxury mobile barbers who charge up to $200, ordinarily, a gentleman's shave only can go for $50 without extra services such as hot towel, shampooing etc. Repeat clients attract a discount. Seniors and children have different rates. Other than luxury and status, the hair type is the single determining factor on the price of a haircut.
Historically traditional, these past 20 years the barber industry has involved supported by new technologies, but the COVID pandemic has definitely rocked the industry and innovations are pouring in the barbershops.
In addition to that, mobile hair services charges are influenced by the equipment of the stylist. Some stylist have mobile van that practically brings the barbershop to you while others carry with them a few tools and devices to shave your hair.
2. How much to tip your barber ?
Tipping beauty professionals is always a subject of questions you've probably asked yourself as your appointment draws to a close, especially with a new beauty professional. We propose here a few pieces of advice to decide how to tip your hairdresser or barber.
Customarily, like any other beauty service provider, you should tip your barber, unless the service is a complete failure or the attitude of the barber was unbearable. Not tipping a barber mobile or not is a significant move.
The average tip for a barber is typically 15-20% of the cost of the service. However, it's worth noting that this can vary depending on factors such as the quality of the service and the location of the salon. Some people may choose to tip more or less based on their personal preferences and budget.
3. How much makes a barber ?
The salary of a barber can vary depending on factors such as location, experience, and demand for their services. According to the U.S. Bureau of Labor Statistics, the median annual salary for barbers was $32,480 in May 2020. The lowest 10% earned less than $22,880, and the highest 10% earned more than $49,720.
Mobile styling is usually more profitable since you dont have to pay for a booth or a seat or for a % fee to the salon. Even if you have to pay a commission to a marketplace, like DashStylists.com, it will cost you around 10%-20% compared to 40% to 60% on average in a beauty salon. And the expenses you have to face as a mobile hairdresser, mostly gas and car use, are very low so definitely you should see more money at the end of the day.
Financially speaking, another perk of going mobile is you dont' have to go full mobile, you can work in a salon for 5-6 hours a day, when the salon is really busy and work for yourself as a mobile hairstylist taking one or two short appointments to cut hair after your work in the salon.
And it is probably better to think of mobile styling as an additional source of revenue as for now, because the US market is not developed enough yet.
But we are working on it !