29th of November, 2023
At-home hair services by a professional : How it works
Wondering about in-home mobile haircut ? How many of you have seen these interrogations or videos where someone (a pro ... or not) explains how to cut you hair at home ?
In the actual health and economic situation, haircutting in your home is a legitimate and common question, unfortunately out of necessity most of the time.
Funnily there are only two ways to fix that : either you give yourself a haircut or let a pro take care of it. Our opinion is one is a risky option the other a pretty safe one ...
We acknowledge we are not the most objective people regarding the question, but we have some solid points to back our position.
If you would like to have a at home haircuts by a professional, you need to find a "regular" hair stylist that would accept to come to your house, or you try to find around you a stylist who is already mobile.
Find in-home haircut services near you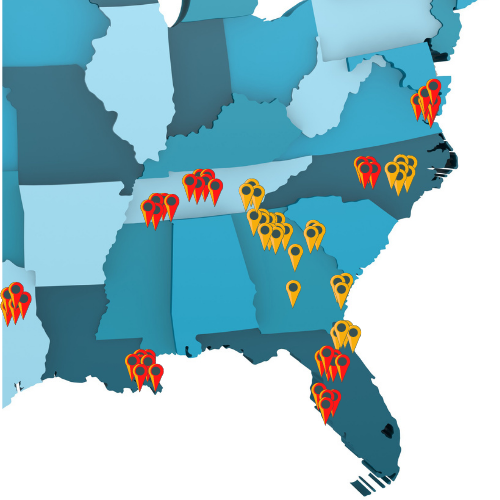 At home hair stylist and barbers travelling to customers places are not common in the US. So far most of the time you would ask a local salon if one of their stylists would do it, but the truth is if you were not one of their client already, there is little chance they would come. Plus there is the equipment question : mobile styling requires a some specific equipment, nothing complicated, but to offer a professional service you must/should have a rolling suitcase to stock you tools, disposable gowns for customers, extension cords for their clippers ...
Some stylists had the opportunity to start servicing clients at their place, especially stylists who specialized in brides / wedding hair services. You can hear from those hairdressers by word of mouth.
To sum up, there is no place where you can find the local stylists who do hair at home ... until now. That is exactly why we created DashStylists.com : enable you to find local and experienced barbers and stylists who will come to you.
For example, based on the duration of the service (up to several hours) you should probably have your braiding services at your place.
Another service that takes time, and then is well suited for at-home hair services is the installation of hair extensions.
What does it take to be a pro mobile hairstylist
First, let's state the obvious : to be a mobile hairdresser you need firstly to be a freelance hairdresser. Being your own boss you get to work the hours that you want, when you want, creating your own schedule. This doesn't necessarily mean you won't be working often it maybe quite the opposite .
Starting out you will want to grow your business as much as possible, making it highly likely that you will be working long hours during the week. Some clients will require early morning services or possibly later in the evenings depending on what is needed. This will often give you the opportunity during the day to work on marketing, promoting and other aspects of your business or just handling errands and your day to day.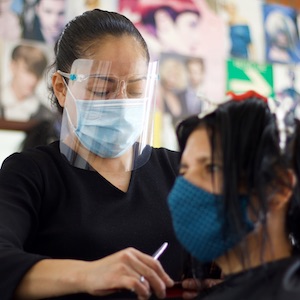 Some basic safety rules when you have your hair done at home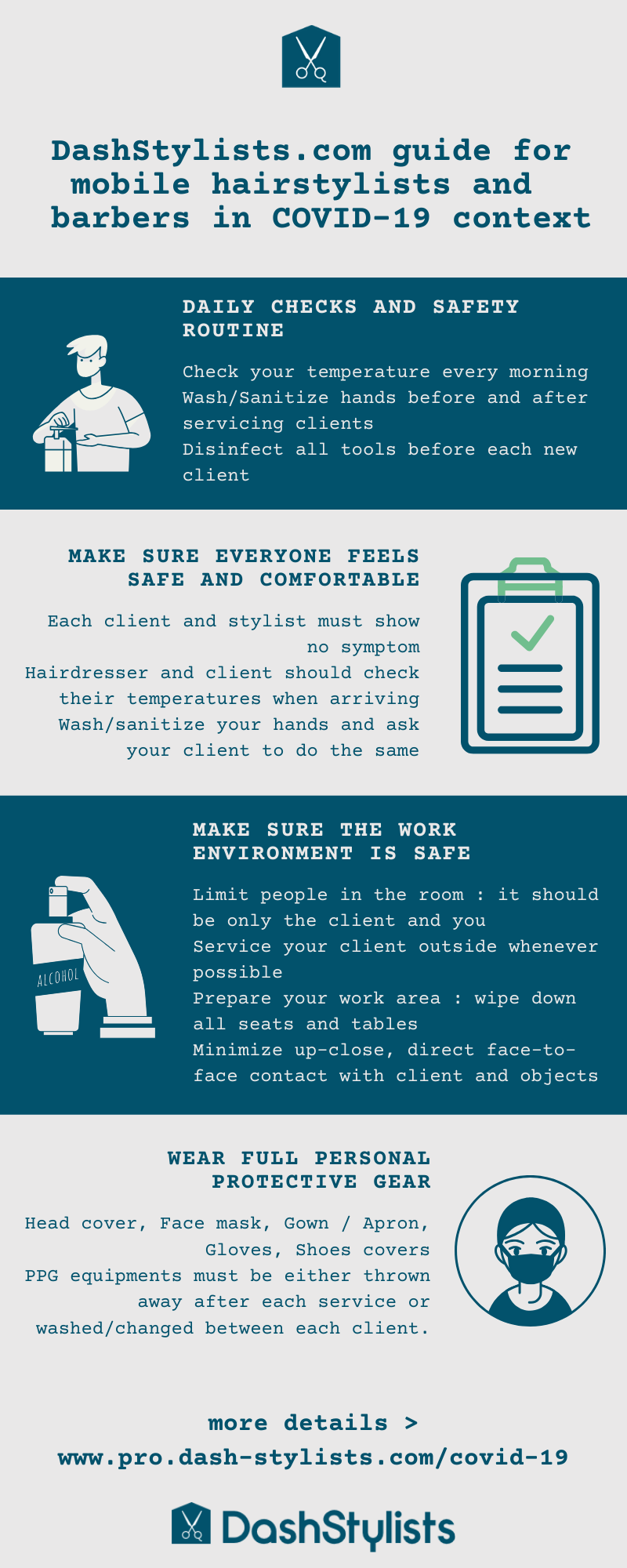 Covid 19 has significantly changed our lives. One such shift is the hair services and beauty treatment industry, which had to evolve to meet their clients' needs amidst the pandemic. More than ever, you can have a hair trim in the comfort of your home. This trend is being sought after for its safety compared to the typical salon setting where maintaining social distance may be challenging.
Having your hair serviced outdoors is not your usual grooming exercise. While easing the crowding issue that salon, mobile hair services are convenient and full of fun. However, it's prudent to observe the laid down health guidelines and basic safety rules to keep COVID at bay.
1. Have your hair serviced outdoors
Many salons and stylists have been forced to close their doors in March under the stay-at-home order. Many states allowed re-opening in April/May just to be closed again recently in July due to spikes in Covid-19 cases. Stylists are worried and fed-up not knowing when or for how long they will be able to work or provide a safe environment for clients. Clients are also concerned with their safety at indoor salons because of the rise in coronavirus cases. Several stylists have decided to start doing haircuts outside. Offering outside haircuts is a way to bring back at least some clients to help pay the bills.
Health officials have stated that being outdoors and in open air while still abiding by safety measures can be a much safer option to being indoors. Both clients and stylists can feel better about not being in closed quarters inside where the spread of germs may be prevalent and feel more confident performing hair services in an outdoor environment. Fortunately we are in the warm months and the weather has been making it an easy transition to service customers in outdoor areas. Getting a haircut outside will work very similar to indoors. The stylist will set up a chair and somewhere for all styling tools to go and perform the service, pretty easy. Color and chemical services can not be performed outside for obvious reasons being water, wash bowls and other things are needed.
With these ever changing times and uncertainty people are needing to come up with creative ideas and solutions. If you haven't ever gotten your haircut outside now is a great time to try it.
2. Sanitize the Tools
Besides sanitizing your hands, the hairdresser ought to ensure that they sanitize the tools and equipment before and after working on a client. Prevention is always better than cure, and sanitizing the tools ensures that no germs get a loophole through the tools.
3. Personal Protective Equipment
Home based and mobile hairdressing lowers significantly the risk associated with crowding. However, observing social distancing for hair and beauty attendants is physically impossible. As such, the safety of the therapists and clients is always a priority. Mobile hair services attendants need to put on the appropriate PPE while grooming the clients.
4. Strict Safety and Hygiene Measures
When seeking home hair and beauty services, an ideal space needs to be set apart. The room or area has to be well aerated. It should be clean and sterilized adequately. All the wastes from the exercise have to be handled and disposed of safely to avoid contaminating the surrounding areas. It's also highly advisable to have the clients not reuse any tools where possible.
There should be a hand washing facility and soap to allow the cleaning of hands. Ensure that all clothing used is cleaned thoroughly after.
5. Be Alert
Have your body temperature and your hairdresser's checked and report any health issues associated with Covid 19 to the health authorities. Safety starts with you. Whereas unkept hair and long nails may not be great for your image, consider safety first. Follow the authorities' directions for your region and make sure you engage compliant hairdressers.
For more details, please refer to detailed COVID19 safety recommendations for mobile hairstylists and barbers proposed by DashStylists.