8th of November, 2023
Mobile Barbershop, Mobile Barber. What is it ? What does it mean ?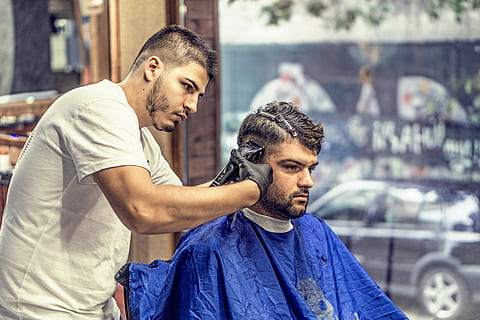 Mobile Barbershop is used to describe two different things. So at DashStylists we have decided to take some time to explain the differences and what you can expect when you see or hear this term.
Often Mobile Barbershop describes a Barber traveling to you
Barbering is different from hairstyling, and this distinction is very specific to the US and UK cultures. In these countries, barbers and hair stylists are considered as two different crafts and are subject to different diplomas and licenses (remember both activities need licenses in the 50 US states).
The most official definition that you can find for Barber comes from the US Bureau of Labor Statistics : "Provide barbering services, such as cutting, trimming, shampooing, and styling hair; trimming beards; or giving shaves."
What is specific about being a mobile barber, besides going to customers instead of servicing them in a salon. We will also explain what are the costs of their services, how much they earn, ... and how the job is evolving thanks to new technologies and new habits towards more independent workers and mobile services.
Most of the time, mobile barbers and mobile hairstylists work for themselves, they book clients at various residences being their homes, hotels, or where ever hair or beauty services may be needed outside of the salon. Mobile stylists must put together a kit containing various equipment including hair styling tools and products they may need for haircutting or hairstyling. The stylists transport their equipment around in their vehicle, drives to the customer's home or place of business, they take the equipment inside and does the service that would usually be done in hair salons or barber shop.
The life of a at-home barber or hair stylist can be very rewarding. You are helping people feel good about themselves and giving them a look they may never have tried before, sometimes just with a light trimming. It's your job to make sure you leave every client feeling comfortable and confident in the hair cutting or styling you provided them with. While doing this you also are trying to ensure they have the look that they were looking for and helping them in looking the best that they can.
Mostly you will propose barbershop services, but some services require specific equipment, like wigs, or a wide array of options, like hair dye. Obviously these services might be complicated to provide outside beauty salons. Therefore we do not recommend to offer these services, unless you already know exactly what the customer wants.
But it can also be a barbershop set up in a vehicule
A mobile barbershop is a portable and self-contained "grooming facility" that offers barber services on the go. Instead of clients visiting a traditional brick-and-mortar barbershop, a mobile barbershop brings the services directly to the customers. These establishments are typically housed in converted vehicles like vans or trailers, equipped with all the necessary tools and equipment for haircuts, styling, and other barbering services.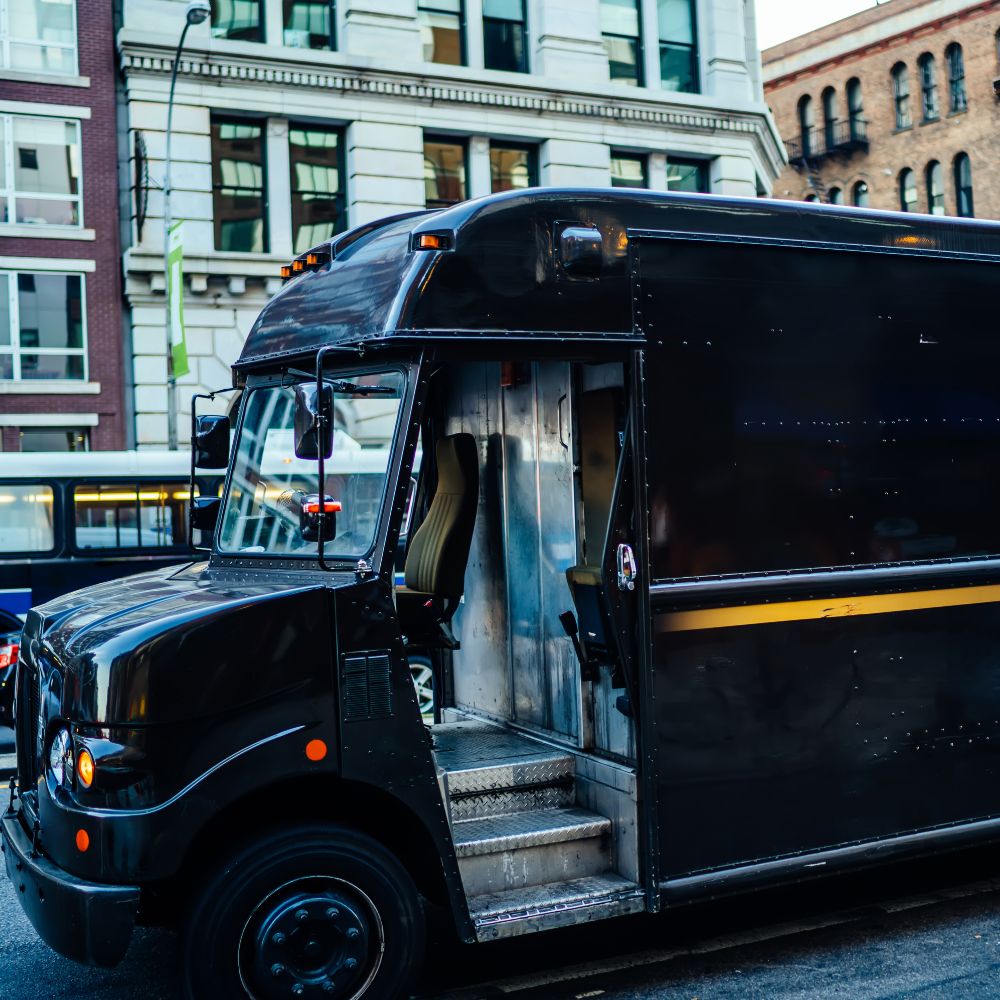 In a mobile barbershop, you can typically find a range of amenities and equipment similar to what you would find in a traditional barbershop. The specific setup may vary depending on the size and design of the mobile unit, but it usually includes :
Barber Chairs: exactly the same ones you find in barbershops, to provide a comfortable and functional space for haircuts and grooming services.
Mirrors: Full-length mirrors are essential for clients to see the progress of their haircuts and styles.
Workstation and Tools: Barbers in mobile setups carry the necessary tools, such as scissors, clippers, combs, and styling products, to perform a variety of grooming services, including a shampoo basin.
And storage : for tools, supplies, and personal items are integrated into the mobile setup.
Mobile barbershops are convenient for individuals who may have difficulty reaching a physical barbershop, but they are also often seen at events, festivals, corporate offices, or other locations where people may not have easy access to a traditional barbershop.
Mobile barbering is actually a new job, while obviously barber is not
Having your hair serviced at home by a mobile barber or a mobile hair stylist coming to you is not usual in the US, whereas in many countries in Europe, Africa or Asia it is very usual. In western European countries, like France or Germany at-home haircuts represent 20% of the total. In comparison, in the US it can be estimated between 1 and 2% (estimated because there are so few people using this kind of services, that official numbers do not even exist.
Most people would not consider it as a new tech super innovative job. After all, we al have in mind kings or noblemen having their hair cut in the comfort of their palace ... so mobile barbering has been around for a few centuries.
So it became a sort of relic from the past. We think this is going to change. As explain by Harvard Business Review, the on demand services are already changing : companies and individual are relying more and more on on-demand workforce, for simple or complex jobs.
Now if your are considering the opportunity of becoming a mobile barber or to hire one, let's have a look at the different aspects of this service.
Need to find a Mobile Barbershop near you ?
If you live in or close to these cities you will probably be able to find a local barber belonging to a network of licensed mobile hair professionals :
on this page you will check Atlanta area, mobile barbers and hairstylists in this area will travel to you for no extra cost. They serve Atlanta, Sandy Springs, Decatur, Lawrenceville, Fairburn, Stone Mountain, Marietta, Duluth
you can also find at-home barbers in Tampa Bay, Fl, Washington DC, Charlotte, NCWhat does it take to be a mobile barber ?
With the necessary skills and training you can become a freelance barber. There are several reasons why freelancing is a great option to go for. First is the fact that at times it may be hard to find work in a salon, freelancing will give you the option to work for yourself. Secondly, establishing yourself as a freelance hairdresser gives you the flexibility to work when and where you choose. You might rent space in an established salon, travel to clients' homes and places of business or work exclusively on sets and photoshoots. So how exactly can one become a freelance hair stylist?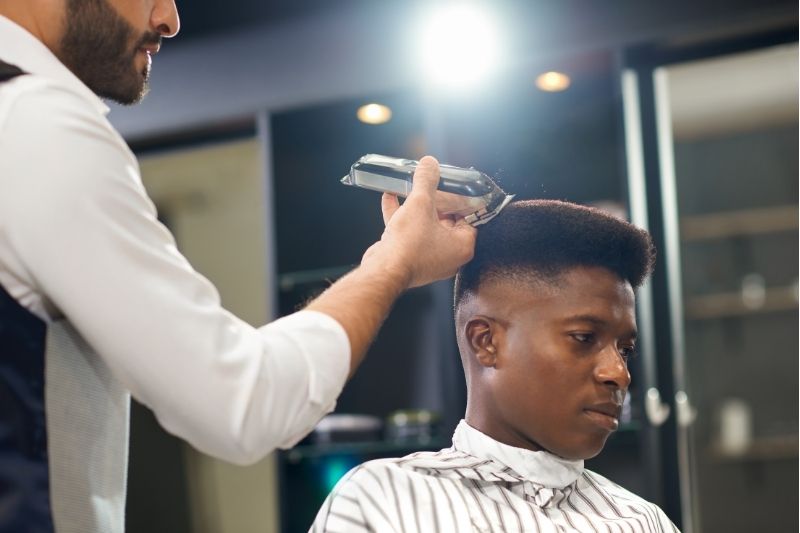 1. Education and Licensure in barbering
It really doesn't matter how talented you are; you have to go for training before you can start styling anyones hair at a professional level. Hairstylists and barbers must be licensed in the state of work. The first step toward licensure is completion of a cosmetology program or barbering at an accredited school. Depending on the school, the cost to complete a program (typically taking less than a year of full-time study) ranges from $5,000 to $20,000 or more. There are many options when it comes to picking a beauty school so tour a few and do your research on which is the right fit for you.
2. Equipment and Supplies for a barbershop
As an independent hairdresser, you'll need to invest in equipment and supplies for your business. You may have already owned some styling tools prior to freelancing but you will need to develop a kit that includes everything you may possibly need for hairstyling. Some of these items include:
Brushes
combs
hairdryer/ diffuser
professional sheers
curling irons and other hot tools
stylings products ( sprays, gels, pomades etc.)
The idea here is to ensure that you have everything you could ever need to offer the very best hairstylist services to your clients.
3. Setting up your mobile barbershop business
In becoming a freelance barber you are essentially starting your own business, this comes with quite a few responsibilities . On the legal side you will need a business license, a tax identification number, a separate business account , credit card and a well-defined method of keeping track of revenues and expenses. You may also want to look into different types of insurance depending on your needs. Creating a professional website as well social media platforms will be import for your business as well. You will need to decide what services you will be offering and a price chart for these services, this information should be included on your website.
4. Build Clientele and get to work !
There will always be people needing their hair done, it is your responsibility to go out there and actively search for clients. In other words, you must market your business. Word of mouth from friends or previous clients is a great and free marketing tool to obtain new clients. Social Media and Ads can be very useful tools when you have the budget for them. Having business cards printed and carrying them with you at all times can be another useful item in gaining clientele. Once you have the clients get to work! Always aiming to provide your client with the best service possible leaving a lasting impression. soon your work will do the marketing for you.
Being a freelance hairdresser is providing a service that women and men need but don't have time for, or they just prefer the convenience of having you come to them. You need to let them know you're out there. Once you graduate and get your license, you'll be set to starting running your own business and being your own boss!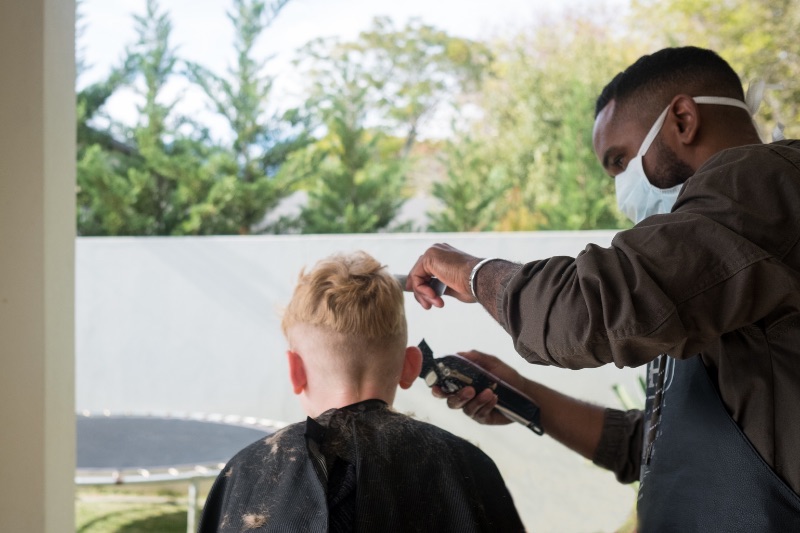 What does a typical day look like for a mobile barber ?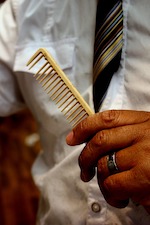 You may have asked yourself what does a mobile hairstylist do everyday ? Or what is a typical day for a mobile hairdresser. Being a mobile stylist comes with many different benefits. One of those being the flexibility, every day can be different or look pretty much the same, it depends only on yourself. A day in this life can look different depending on that particular day, but most days go a little similar to this.
As a Mobile barber or a mobile hair stylist you are in charge of your schedule, starting each day or week for that matter with a plan/ schedule for all your appointments will help keep you organized and your day/ week going much smoother. Having a planner or physical calendar can be useful for this or there are plenty of applications on your phone which you can use also.
Today is pretty busy day, you have 4 clients, one at 7:30am, two at noon and one more at 4pm. You should have your mobile kit which consists of all the tools, styling products and sanitation items you may need for the day clean ready and organized either the night before or morning of.
7:30AM : The first appointment of the day is at 7:30am so having your kit prepped the night before will help greatly. Also you may not have time for breakfast before hand but the second client isn't until 12pm so that should give you time to grab something in between. You will need to know how far apart these appointments are so you can plan how much travel time you need in between. You have your kit ready, and you may want to check the type of services you will be providing, the kit might be slightly different if you have only haircuts scheduled, a straightening or a straight-razor cut. You know the address and the appointment has been confirmed so off you go to start your day. You arrive at your first client location, perform that service to their satisfaction, clean your area and tools throughly before you leave and get ready to prep for the next appointment.
9:30AM : Given you have some free time now you can grab breakfast, coffee or more coffee (lol), if you have any emails or texts messages from clients to respond to now is the time you can do that as well as running any quick errands ex. post office and such. It is almost time for the next appointments so prepare to do it all over again.
12PM : You arrive at the second location, service the two clients , gather your things and get ready for your last client of the day. Because there were two clients instead of one you may not have much time before the next client. We always want to try to provide great customer service and being punctual is part of that so it maybe a good idea to head to your next client if it that means being a little early and waiting in your vehicle until the appointment time.
4PM : When appointment time comes head in the location, perform the service and get ready to head home. You are done for the day, time to go home, have dinner, relax and plan for the upcoming days ahead.

Some days you will have one client others you may have eight. Getting a good routine and remaining focused on delivering great results along with great customer service will make be a mobile stylist both a fun and fulfilling work.
Being an independent Hairstylist or Barber during Covid-19 Times
As we all know we are experiencing some rather challenging and interesting times with a global pandemic going on. Being a mobile hairstylist or mobile barber can be especially tough right now. With so much uncertainty on what will happen next and the government shutting down salons and barbershops being an independent hairstylist can be scary . Although this is a scary time with so much going on in ways being an independent hairstylist during Covid can be beneficial.
When you are a independent stylist you can work in a salon or barbershop or opt to work on your own outside of the salon. Many salons still have not re-opened due to the effects of Covid-19 while others have and have had a decrease in activity leaving numerous stylists without work. Being able to work for yourself outside the salon or barbershop as a mobile stylist is a true benefit at this time. A lot of people are nervous about going to salons, if salons are safe and what sanitation or safety precautions they are taking. None the less clients still need hair services so being mobile you are able to service the client in their home or desired location where a client may feel more comfortable.
Safety should always be a priority but with the Covid-19 outbreak safety has been taken to a different level for independent stylists to insure safety for both the stylist and the client. Many Stylists are requesting clients wear a mask and be serviced outdoors, stylists also wear a mask along with gloves and sometimes additional PPE(personal protective equipment) such as gowns/aprons, shoe and hair covers. Some customers may be apprehensive to the new way things are going but as a independent stylist you can talk with them and explain the safety precautions you are taking and come to a medium where both parties are happy and confident. Besides the protective gear many independent stylists are upping their sanitation protocols and sanitizing more than ever before along with using disposable items and making sure tools are washed and sanitized between each client.